23 August 2023
Breaking: Until Aug. 23, more than 25.000 downloads
For the first time in its history, the Dutch Grand Prix organization is offering digital collectibles to ticket holders of this year's race weekend. Every ticket holder will have the opportunity to acquire their own collectible through the Dutch GP app. Each collectible contains unique coordinates of the track from the CM.com circuit Zandvoort, which is celebrating its 75th anniversary this year. This customer loyalty initiative marks one of the largest releases ever of digital collectibles directly to fans attending an event. Check this page for more information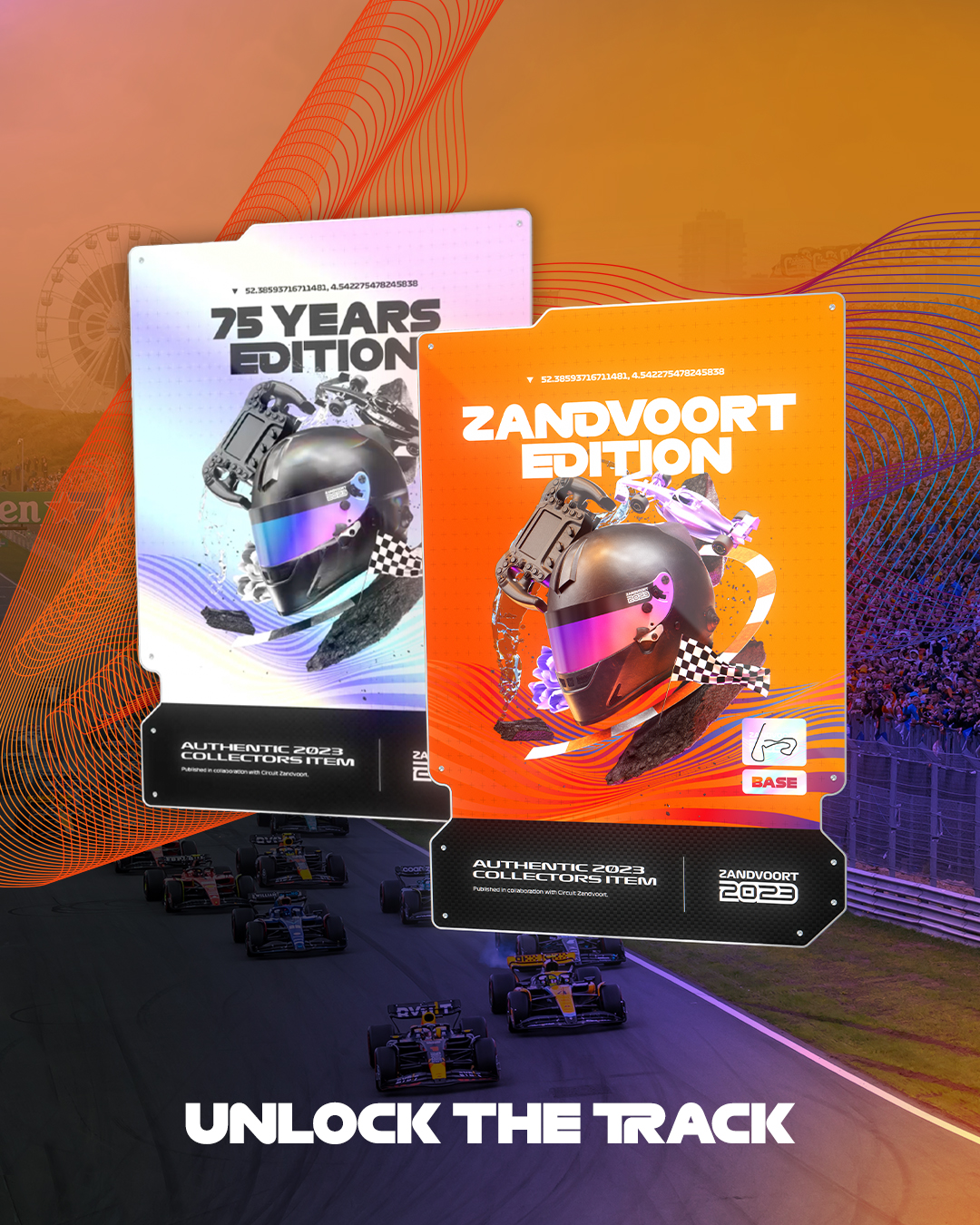 What makes these digital collectibles truly special is that each one is connected to unique coordinates of the Zandvoort race circuit. Every visitor takes home a piece of the circuit, from the famous 'Tarzanbocht' to the high-speed 'Hunserug'.
Jan Lammers, Sporting Director of Formula 1 Heineken Dutch Grand Prix, is very pleased with this new digital way of rewarding and engaging fans. 'The experience of this event is largely shaped by our fans. It's a bit of all of us. That's what makes our event 'Like No Other'. To emphasize this further, our fans can now also become 'real' owners of a piece of the digital circuit.'
Engaging Fans
By automatically generating unique collectibles through GET Protocol's Digital Twin and linking them to CM.com's digital tickets, the more than 100,000 race fans per day coming to Zandvoort can view and share their collectibles directly from the Dutch Grand Prix App. In the future, surprising functionalities and benefits could be given to the holder of a collectible. This could include a customer loyalty platform, early access to contests, exclusive and unique content and tickets for upcoming events.
Teun Verheij, Head of Marketing, Communications, and Media at Dutch Grand Prix, emphasizes the importance of continuing to innovate in fan communication to remain relevant and surprising for all fans. 'In addition to the race, we aim to create unforgettable experiences on and around the track. As a fan, you take this home with you. As a memory, with a photo, but now also with a digital collectible. The sense of ownership strengthens the bond with our event.'
The simplicity of a ticket-based distribution 
Unlike external collectible distributions which force users to jump through complex hoops to get their hands on collectibles, the Zandvoort Grand Prix distribution is tied directly to the issuance of the event's ticket. For attendees the user flow is as simple as purchasing a ticket, personalizing through CM.com and claiming their collectible in the Dutch GP app, after which they'll see it natively in their user profile. All complexity is handled behind the scenes through GET Protocol so that anyone – no matter age or technical knowledge – can take home a piece of the racetrack.
Part of this behind-the-scenes magic is the creation of a custodial wallet for every single attendee at the race. Instead of the user having to manually create or enter their own wallet, GET Protocol generates a Collectible on the moment, which is issued and tied to a ticket. The ticketeer and event-related application simply link their own user ID to the created wallet which is not only a frictionless process but allows for full exploration of all Web3 user flows, from receiving & sending assets, to going through token-gated activations set up by the event organizer