The Formula 1 Heineken Dutch Grand Prix 2022 race weekend ended festively today with another phenomenal victory by Max Verstappen. In his post-race interview, Verstappen thanked his fans and summed up his feelings as "Proud to be Dutch. The organization of the Dutch GP looks back on a very successful and successful event with a record 305,000 visitors measured over the three days.
Ready for More was this year's overarching theme, with more visitors, more entertainment, and more festival. The organization's wish came true.
Dutch Entertainment
With performances on Friday by Guus Meeuwis, Emma Heesters and Antoon, the weekend kicked off. The Full Throttle Pre-Qualification Show with headliner La Fuente was a first in 'Saturday entertainment' in the Formula 1 world. World-class Dutch stars Floor Jansen and Afrojack provided a spectacular finale to Race Day.
Floor Jansen was also proud to be Dutch: "What an honor to represent the Netherlands in front of the drivers and in front of the eyes of the world and to kick-off the race. The energy on the circuit was sizzling and palpable for me. I enjoyed every second, had goose bumps and felt tension. I wanted to do well for Max and our homeland. It makes me proud to be Dutch, especially as a Dutch artist. I am no stranger to international attention, but never on this scale. Unforgettable!"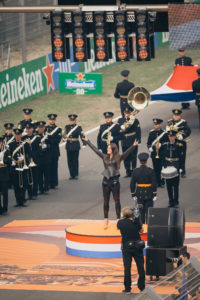 Challenging
Formula One Management (FOM) CEO Stefano Domenicali is complimentary.
"I said earlier this week that the Dutch organization keeps raising the bar, for themselves and for others, and they proved it again this weekend. Incredible fans, great energy and an event no one will forget."
The organization is also satisfied with the entire course of the event with a record number of visitors. The mobility plan and the facilities at the track met expectations. This would have been impossible without partner NS, with more than 100% commitment from all NS personnel from conductor to driver.
Ready for tomorrow
Jan Lammers, sports director: "Wow, how much I enjoyed this weekend! It was impressive to see what our staff, partners, and everyone we work with accomplished. I echo Max's words; "Proud to be Dutch", what an achievement! I am already looking forward to next year. We were ready for more and we are now ready for tomorrow."