27 August 2023
Three times full grandstands and three times Max Verstappen as the winner. The Formula 1 Heineken Dutch Grand Prix in Zandvoort today once again became an orange party that was experienced even more intensely than in previous years. This could definitely be attributed to the mix of Max, sun, rain and goose-bump entertainment.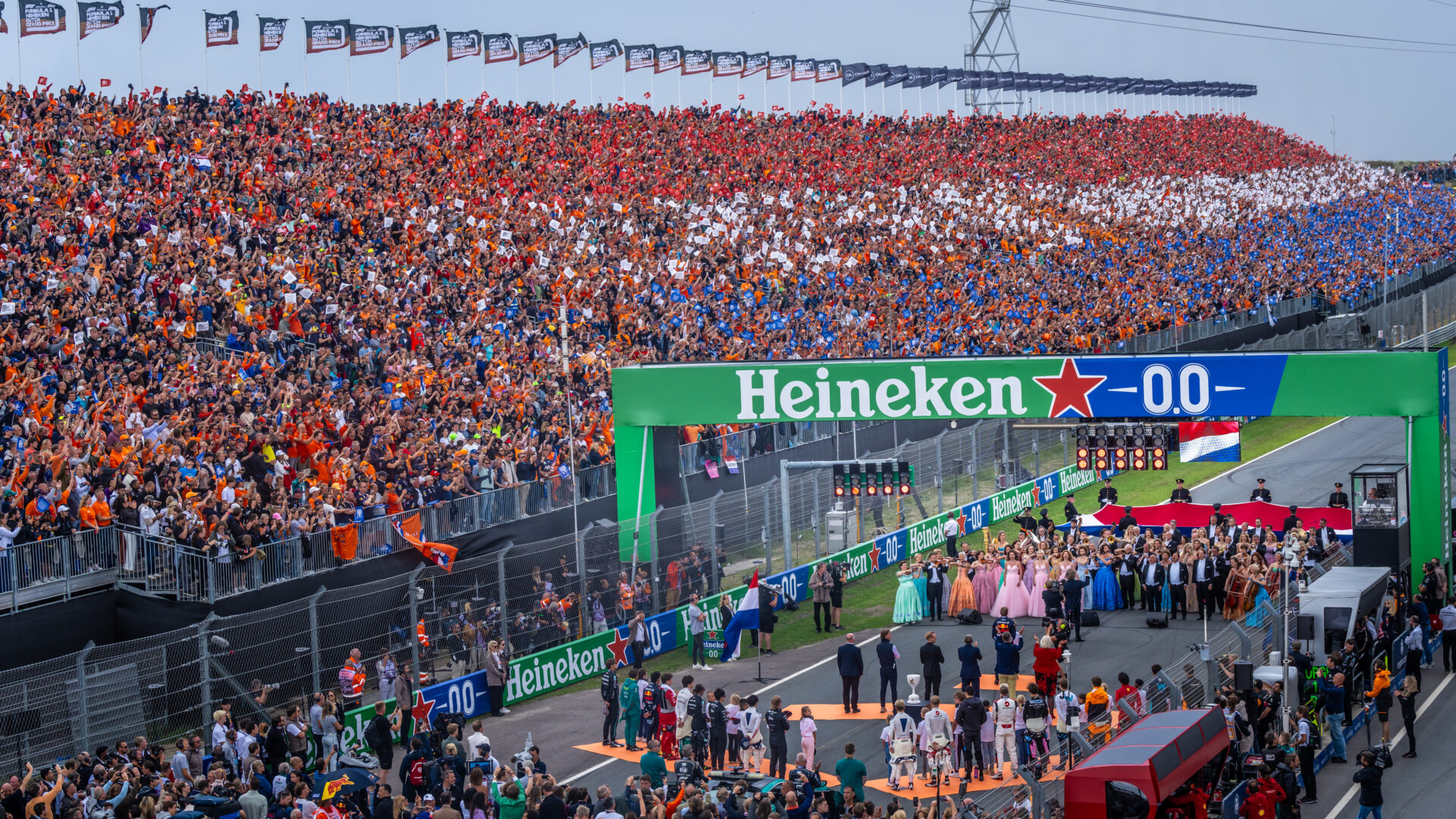 On the packed grandstands of the CM.com Circuit Zandvoort, 105,000 fans witnessed yet another masterclass from Max Verstappen in a chaotic race, that not only increased his lead in the classification but also equaled a record today. Like Sebastian Vettel in 2013, the Dutchman has now won nine Grand Prixs in a row.
The count this season already tops eleven victories, after thirteen Grand Prixs completed. There are nine more chances for the Limburger to win.
Goosebumps
Verstappen's third title in a row at Zandvoort was celebrated loudly by the fans, who were considerably warmed up before the race by a pre-race show by André Rieu and his orchestra and DJ La Fuente on the grid, which even gave Max Verstappen a goose-bump moment.
The combination of classical music and uplifting beats got the audience in a euphoric mood, as well as the royal family, who were visiting the Dutch Grand Prix. Rieu himself was also overwhelmed by the enthusiasm. "Normally we get an ovation from the audience after the performance, but here it was one big party the whole time," he said.
Compliment
Even during the wet breaks all the fans, even the international fans, created an outstanding atmosphere like no other. That effusiveness later extended to the Fanzone, where La Fuente, who also launched the official Dutch Grand Prix song Lights Out today, provided the orange party with a suitable finale.
"Unique for the Netherlands and unique for Formula One," mused sporting director Jan Lammers. "Our fans don't let a splash of water and interruptions stop them from making it a great party. Also nice to see that today we achieved our target of 98% of visitors coming by sustainable transport. Compared to Saturday, slightly fewer fans came by bike on race day, but it turned out that public transportation was able to respond well to the weather forecast and handled those extra travelers well. That's worth a compliment to NS and Connexxion."
"Sunny"
In terms of all aspects, the future looks "sunny", Lammers said. For the next two years, the Dutch Grand Prix in Zandvoort is guaranteed. Ticket sales for those editions have already started. Because popular demand has exceeded offer for two years, the Dutch Grand Prix is using an application and allocation process. Applications can be made via this website until September 8.
Within the Formula One Group, the Dutch Grand Prix is earning praise for its approach in Zandvoort. CEO Stefano Domenicali, even before the footage of the partying fans went around the world, noted in various media that the Dutch Grand Prix "shows the dedication to continually improve the quality of the event and does not sit back because of Max's successes."