26 Augustus 2023
After two years of sunshine, sun and rain varied on the Saturday of the Formula 1 Heineken Dutch Grand Prix in Zandvoort. But the fans were not bothered. It was even busier on Qualifying Saturday than last year, more visitors came by bike and the party was no less. "It seemed like the rain created a magical bonding," said sporting director Jan Lammers, who also announced that ticket applications for the 2024 and 2025 editions can already be made.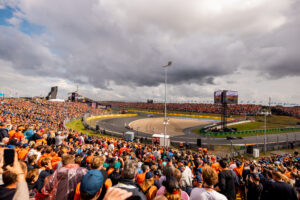 Full stands during the Formula 1 Heineken Dutch Grand Prix
Today the stands were packed with 105,000 visitors during qualifying and at other times it was very busy and enjoyable on the festival grounds.
The Dutch summer with both sun and rain also caused spectacle to the track. "The rain didn't stop the fans. It even gave a special atmosphere on the track and the grandstands," Lammers said. "As if the rain caused a magical bonding. And Max's sublime win in qualifying was of course the icing on the cake for the fans."
Ticket applications open
Like the two previous editions, the Dutch Grand Prix 2023 was sold out in no time. Due to the enormous interest and the limited number of tickets available, the organization is also using an application and allocation process for 2024 and 2025, which has now started. Interested parties have until September 8 to apply for tickets. All requests have an equal chance of being awarded. Applications for tickets can be made through this website.
Lammers: "Fan interest is ongoing. You certainly shouldn't wait too long. The demand easily exceeds the offer. So this is, in our opinion, the fairest way to offer tickets for the upcoming editions. After three years, the racing fans still haven't had enough. Neither are we. With new energy, we are working on 2024 and 2025."
Like No Other
Meanwhile, the organization is already thinking about how to give new meaning to the slogan Like No Other.
Robert van Overdijk, Director CM.com Circuit Zandvoort: "Regarding sustainability, we have already taken many steps in the past years, but we are always observing where we can do even better. For example, in making our power supply more sustainable. Last year we created a 'smart grid', bundling the generators we need for the peak load during the event. This drastically reduced the amount of fuel used. In addition, we use HVO100 fuel, saving another 82.5% on our footprint. This year we expanded it with a fixed power connection and solar panels. So we have eliminated a total of 94.5% of our emissions on energy production. And we tested with a hydrogen-powered generator this year. So we'll continue to make progress next year."